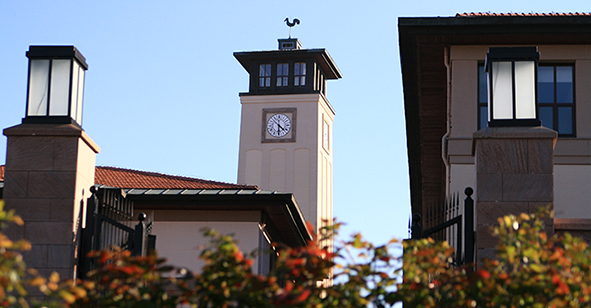 Time flies as usual as we note the 6th anniversary of our tradition of these monthly Newsletters from the Office of the President. These albeit brief monthly notes constitute a track record of our aspirations, our achievements, and our ambitious and unrelenting climb on the ladder of excellence.

October is a very special month for us, as it starts with the birthday of our university and ends with the celebration of the founding of our Republic.

This year, what we had in between these two special days gave us more reason to rejoice and celebrate many of our achievements.

On October 4th, we celebrated the 29th anniversary of the founding of our university because of the brilliant foresight of the late Vehbi Koç, signified by his 'opening lecture' delivered on October 4, 1993.

This year our birthday also coincided with the start of the academic year, so it was a double celebration. After a challenging two-year period with COVID-19, it felt great to be all together, fully enjoy and have our face-to-face rendezvous on our beautiful campus, bumping into friends and colleagues in the cafeteria or the halls after a class or in a club activity to engage, generate ideas, and discover and talk about is the ongoings on in our lives.

Most encouraging also has been the fact that engagement with classes of our students, undergraduate and graduate, which weakened substantially during COVID-19 and with the online/hybrid teaching format, appears to have bounced back in spades. Our classrooms are full once again and face-to-face realization of university education as an 'appointment between generations' is flourishing on our beautiful campus.

Many congratulations to our faculty members who continued to receive prestigious awards and accolades for their research and work.

Dr. Buse Cevatemre Yıldırım from our Research Center for Translational Medicine (KUTTAM) received the L'Oreal-UNESCO for Women in Science 2022 award, making her the 13th scientist to have received this prestigious award, for her research on epigenetic regulators in reversing resistance to chemotherapy drugs in prostate cancer.

Assoc. Prof. Didem Unat from the Department of Computer Engineering has been recognized as one of the recipients of the 2021 Young Scientist Award from 'Bilim Kahramanları' Foundation. Didem Unat received this award for her outstanding contributions to the Supercomputing community and achievements in developing algorithms and programming models for Supercomputers to facilitate parallel computer architectures, to save energy and increase the performance of the software.

Prof. Ibrahim Halil Kavaklı of Chemical and Biological Engineering won a prestigious Health Institutes of Turkey (TÜSEB) award this year; where he was awarded the TÜSEB Aziz Sancar Science Award for his work on DNA repair and circadian rhythm.

The first ever Science Diplomacy Award from the Council of Higher Education (YÖK) was presented to Assoc. Prof. Sedat Nizamoğlu from the Department of Electrical and Electronics Engineering. To be the first recipient of this award, given to outstanding scientists who are recognized with prestigious national/international awards and receive and successfully execute large-scale international grants, is particularly noteworthy for our university. Assoc. Prof. Sedat Nizamoğlu continued to receive more awards for his research as he won the 2022 Health Institutes of Turkey (TÜSEB) Encouragement Award for his promising work on photomedicine and bioelectronics.

And finally, Prof. Filiz Çalışlar Yenişehirlioğlu was honored with the National Order of Merit (Chevalier dans l'Ordre national du Mérite) at the French Embassy for her contributions to the Türkiye-France academic and cultural relations.

In addition to these wonderful recognitions, we have also been quite successful in various rankings. We have seen an extraordinary growth of research productivity at our university in the past few years and as we continue to recruit new faculty with the highest global standards, we also see our scholarly output greatly enhanced. All this amazing work surely translated into our performance in THE's (Times Higher Education) subject-based rankings. While our university kept its 1st place in Türkiye in Engineering, Social Sciences and Psychology, we climbed also to 1st place in Arts & Humanities and have seen jumps to higher rankings in Business & Economics and Clinical & Health.

Great news also came from our Graduate School of Business in 2022 Financial Times Global Executive MBA (EMBA) Rankings. Koç University EMBA program has climbed up a whopping 14 ranks and is now ranked 31st worldwide and 1st in Türkiye, strengthening its position yet again as one of the leading programs in the world for senior working managers. What is more remarkable with this ranking is the fact that our Graduate School of Business, with its ratio of 50% in women faculty members, shared the first place in the world in this criterion with three other universities. Heartfelt congratulations on this impressive success go to our deans, faculty, and staff...

We wrapped up the month with a most significant anniversary for our country. Invigorated by the vision set forth by Ataturk on October 29, 1923, we celebrated the 99th anniversary of the founding of the Turkish Republic. The driving force and the inspiration behind the founding vision of Vehbi Koç who established this great institution with great sacrifice by overcoming all kinds of obstacles is surely the courage and foresight and the unmatched vision of Mustafa Kemal Ataturk who laid the foundations of our Republic in a time where our country was reborn out of the ashes of a collapsed empire.

Now that we have started counting days from the 100th Year of our Republic, we shall celebrate the 100th anniversary throughout 2023, with all the outstanding things that we always do, as we continue to strive for excellence in education, scientific research, and exemplary citizenship. We shall indeed celebrate the 100th Year of our Republic with Koç University!