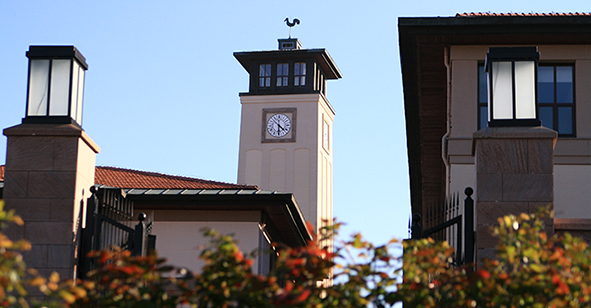 Dear Members of the Koç University Community,

Fall has always been one of the best times of the year, as our university is not only adorned with the beautiful manifestations of the season in Istanbul and at our campus with its wonderful colors, but also welcomes and embraces close to 1500 new undergraduates, hundreds of new MA/MS/PhD students and tens of new faculty and staff joining our community.

With less than a few days left to officially welcome both our new and returning students, faculty, and staff at the beginning of a new academic year, here is a snapshot of how the month of September unfolded for Koç University.

We were so lucky to be gifted with a bright sun by mother nature during Orientation Week where new undergraduate students at our amphitheater ODEON, one of the landmarks of our beautiful campus, were welcomed with an Opening Address, followed by informatory meetings for each College and School.

We have also had a somber time this month, remembering the late Suna Kıraç, who was instrumental in the founding of our university with her indefatigable energy, drive, and passion. Koç University would not have come to being without Suna Kıraç, whose vision greatly helped make our university become a center of excellence in such a short period of time. Her driving vision forever encourages all of us to capture excellence in education of the architects of our tomorrows and in scientific research, to ensure and strengthen the future of our Republic in the best way possible.

And this month that encouragement and fervor were seen aptly in our research efforts. We have had great news back-to-back from so many fronts that we had to wait a few days to announce them, really a nice problem to have . . .

Our UNVEST R&D Center application, two years in the making, has finally been approved by the Ministry of Industry & Technology. To be managed by Dr. Barış Yağcı, under the auspices of the UNVEST New Business Development Unit Director, Dr. Mahmut Özdemir, the Center launched its activities with 17 R&D personnel located in ENG 123 in College of Engineering. Being the first of its kind in our country, this Center is to serve as a bridge between the high-level academic research activities at Koç University and applied R&D, hence facilitating the effective transfer of academic research output to industry.

Our progress on the European Research Commission (ERC) grants has been steadily growing, with additional exciting news unfolding this month. Two Koç University projects received funding for the ERC Proof of Concept Program, carrying our total to 8 out of 10 ERC Proof of Concept Grants in Türkiye awarded to Koç University faculty members.

In his project, Assoc. Prof. Mustafa Erdem Kabadayı from the Department of History, analyzes radical land use and land cover segmentation by associating them with population dynamics from the 1940s to the present in the area including Istanbul, Edirne, and Plovdiv, to predict possible agricultural population loss, agricultural land abandonment and deforestation in the 2040s. Our other "Proof of Concept" grant from ERC went to Asst. Prof. Mehmet Cengiz Onbaşlı of the Electrical and Electronics Engineering and Physics Departments with his "SuperPHOTON (2D Topological Superconducting Single Photon Detector Devices)" project, aiming to produce and commercialize highly sensitive new quantum light sensors, one of the most important research areas of the 21st century.

Our successful acquisition of other prestigious international grants continued this month, with two Koç University projects receiving grants from other European funding agencies. "MIG-AGE (Do Immigrants in Europe Aging Well? Mixed Methods and Intervention Study in Four Countries)" project by The Migration Research Center at Koç University (MiReKoc) team led by Prof Ahmet İçduygu and supported by The Volkswagen Foundation, addresses the question of what it means for different groups of migrants in Europe to be old and age well, specifically for first-generation retired labor migrants.

Prof. Nazlı Başak from School of Medicine and Asst. Prof. Hamza Syed from Koç University Research Center for Translational Medicine received support from the Canadian Institute of Health Research to their project "The oral and gut microbiome and their derived metabolites in sex differences in ALS", to investigate the relationship between ALS, a debilitating brain disease, and microorganisms, especially in the gut.

Continuing on the great news, TÜBİTAK announced the results of their first TEYDEB 1711 Artificial Intelligence Ecosystem call, where two Koç University projects received funding as partner institutions out of a total of 10. A very welcome development for Prof. Metin Sezgin and Prof. Yücel Yemez from our College of Engineering and our KUIS-AI Center, in the context of which we can hopefully see the use of AI in many more areas and in such collaborations with the industry.

Our final congratulatory note goes to Prof. Seda Keskin Avcı, College of Engineering, for being selected as one of the top 20 Outstanding Women in Chemical Engineering across the globe. Out of 100 leading worldwide nominees, Prof. Keskin was selected as one of the Top 20 women across the globe, who are making an impact in Chemical Engineering research and education by the prestigious international journal Chemical Engineering Research and Design.

All these accolades to our outstanding researchers once again give us more reason to celebrate our faculty and their extraordinary work in science and research.

Despite these happy news, our university has also gone through a humbling period of challenges this month. For the past two years, we are faced with a dormitory capacity issue, primarily due to the dramatically enhanced demand on the part of our students for dormitories. Prior to COVID-19, number of beds at our dormitories were typically higher than demand, so that we had empty beds during both terms, more so in Spring than in Fall. In fact, when we had to close our campus and empty out our dormitories in March 2020, we had about 150+ beds unoccupied. However, demand for dormitory housing on the part of our students jumped from about 60% pre-COVID to about 85% post-COVID!

Last year, we were not able to provide dormitories for many of our students with residences in Istanbul. Although we then immediately started our work towards capacity increase in dormitories, the required design, development and approval procedures have only been completed this past August. The necessary construction work for this project can thus only be undertaken during the 2023 summer season, thus enabling us to provide more dormitory beds to our students as of 2023 Fall Term and subsequent years.

With capacity increase not possible until next year, we also faced an even tougher challenge of placing our students in dorms this year. With demand on the part of our undergraduates for dorms increasing even further this year, we faced the danger of not being able to provide beds even to students with residences outside of Istanbul. Such a circumstance would have dramatically affected our entire academic program, forcing a hybrid (online + face-to-face) academic program for all undergraduate and graduate students.

To quickly alleviate this important problem, we took immediate steps to make the necessary financial investments and undertake a nearly impossible procurement challenge, to convert single-bed dorm rooms to double-beds resulting in a +400 additional capacity. Although this decision provided enough capacity for all of our undergraduate students from outside Istanbul, one unfortunate result was the fact that our graduate students, who were staying in single-bed rooms, would now have to share rooms. We are fully aware of the inconvenience that such a change might cause, and the fact that it requires an important sacrifice on the part of our graduate students, and we thus greatly appreciate the fact that most of our graduate students cooperated with the university administration. Our graduate students are the most important engine of a prominent research university such as Koç University and we pledge to do our level best in ensuring that they are supported in the best way possible in both now and the coming years.

We are now all set for the start of this new academic year, the right moment to move forward and do our best in all sorts of ways to make things better in 2023, to realize the founding vision of Vehbi Koç who established this great institution with great sacrifice by overcoming all kinds of obstacles, as well as the all-encompassing vision of the Founder of our Republic, the great honorable Mustafa Kemal Atatürk. With the fact that 2023 is the 100th year of the founding of this greatest country on Earth engrained in our minds, we set out to ensure a most successful year of outstanding education and excellence in scientific research.