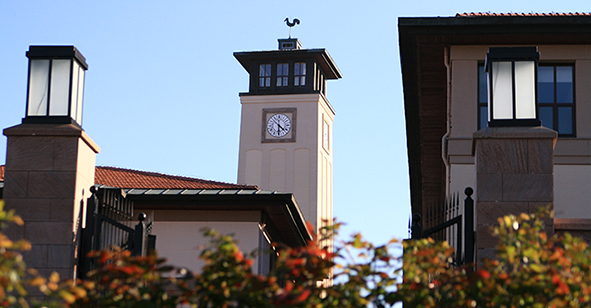 April's newsletter promised so much fun, cheer and much more to look forward to in May, with our fantastic student performance clubs exhibiting their performances in the Sevgi Gönül Auditorium and with the upcoming Spring Festival, finally taking place on the College Green with exciting musical performances.

The month of May surely did come with so much more, along with smoldering heat, not seen for 50 years in Istanbul and a lot of places all around the country. Summer has officially arrived with the sun shining upon us.

The month started with 'International Worker's Day'. A person's labor is one of our most sacred and valuable assets. Although the first thing that comes to mind when we think of labor is more physical production, the contributions we make with our intelligence and thoughts is also to be considered as labor. At Koç University, we do extraordinary work, taking firm steps towards excellence in education and scientific research. Thus, it was a celebratory day for all of us.

International Nurses Day, celebrated on the anniversary of Florence Nightingale's birth, the founder of modern nursing, made us all remember and present our gratitude to them. Most of us have a nurse story from the first hours of our lives. As they are the messengers and guides of our first days on this earth, they are often times also the last witnesses to our farewells. The Turkish Nurses Association awarded Semahat Arsel, Chairperson of the Board of our Vehbi Koç Foundation as its first 'Honorary Member' for her immense, continuous contributions to the training and education of nurses and the professional development of the profession as part of the celebrations during Nurses Week which took place around the same time.

May 19th, Commemoration of Atatürk, Youth & Sports Day, is the day on which the founder of our Republic, Mustafa Kemal Atatürk, landed in Samsun to start the National War of Independence and the process of the founding of modern Turkey in 1919.

The fact that Atatürk gifted this important day to our Youth importantly underscores the notion that the future of our country is indeed entrusted to them.

Atatürk, in his Great Speech at the tenth anniversary of our Republic, stated the importance of science with these words: 'The torch the Turkish nation holds in its hand and in its mind, while marching on the road of progress and civilization, is science. Therefore, it is our national ideal to constantly nurture and develop the worthy and noble character of the Turkish nation, its tireless industriousness, innate intelligence, dedication to science, love of fine arts, and sense of national unity through every available means and measures.'

At Koç University, we are dedicated to ensuring that this torch burns forever, while continuing to do our part by striving harder than ever for excellence in education and scientific research so that we can equip our students with the best foundations upon which to secure our future.

This month also gave all of us an opportunity to review the past semester and the full academic year, coupled with many awards presented at the third General Faculty and Staff meeting. This meeting which usually takes place at the end of April was postponed to May due to back-to-back holidays earlier in the month; nevertheless, we celebrated those who have shown the kind of dedication and commitment to deserve Awards this year. A new patent competition - KUIMpact Awards, initiated and designed by our VPRD Office, were presented to 3 highly impactful and innovative projects including a highly sensitive diagnostic kit that will quickly detect infectious diseases including COVID-19, discovery of a molecule that can be used for the jet-lag treatment and an invention that will help prevent food waste as well as food poisoning, which unfortunately tend to be one of the major issues our world faces today. The Faculty Outstanding Teaching Awards allow us to acknowledge the effort, experience and time put into quality teaching. The Outstanding Service Awards included individual awardees from among our administrative staff, being rewarded for their special outstanding contributions. A wholehearted congratulations are in order for all the award recipients.

It has become quite a routine to give good news on the research front in our recent newsletters, a happily accepted habit where each month has more than a few research successes sprinkled throughout.

First news came from the European Commission which announced the results of the Twinning 2021 call, under Horizon Europe's "Widening participation and strengthening the European Research Area" pillar and the Twinning proposal "Bridging the Migration and Urban Studies Nexus (BROAD-ER)" from Migration Research Center at Koç University (MiReKoç), coordinated by Prof. Ahmet İçduygu, has been accepted. This program is the second Twinning Project of Koç University as the Coordinating Institution, in a consortium with University of Amsterdam and UPF Pompeu Fabra University. The project aims to establish a Research Excellence Network and foster interdisciplinary research and education at the nexus of migration and urban studies. The consortium is awarded a budget of ~1.4M €, with Koç University retaining half of the funding. With this project, Prof. Ahmet İçduygu and his team will work to close the research gap within the European Research Area by building an innovative and interdisciplinary approach while also increasing Research and Innovation capacity in Turkey in pivotal emergent fields, namely migration and urban studies.

Another set of great news came from the European Research Council. The "Politus: AI-based Data Platform for Fair Social Policies" project proposal of Assoc. Prof. Erdem Yörük has been accepted as ERC 2022 Proof of Concept and awarded with a €150K grant. This is the first ERC Proof of Concept (PoC) project received in Turkey in the field of Social Sciences. The Politus Project is to assess the commercial viability of proprietary natural language processing and machine learning technology for AI-based data-driven fair social policymaking. The project is to verify the innovation potential of computational social science and policy-related novel methods from Erdem Yörük's ERC-funded Emerging Welfare Project.

This acceleration in our ability to secure prestigious grants awarded by leading sponsors in Europe amidst very tough European-wide competition is surely thanks to first and foremost the increasing interdisciplinary studies and outstanding research capabilities, that are a culmination of many years of hard, persistent work that is now paying off. Such results and the very bright outlook into the next decade are laid out in detail in our new Annual Report, which also summarizes our outstanding achievement of our University, featuring faculty, staff and students along with organizations and activities that took place during that academic year.

In the area of driving innovation and creating opportunities, our KWORKS (Koç University Entrepreneurship Center) has been on a steady rise over the past few years as a truly rich hub of entrepreneurship in the Turkish startup ecosystem. As a leading startup accelerator in Turkey, KWORKS organized a student focused event 'Groundbreaking Ideas Meeting' this month in an informal get together in a tent set up at the University Common where KWORKS Executive Board Member Ali Koç and other members met with entrepreneurs from Koç University and listened to their ideas, giving them feedback and guidance.

Now we look ahead to Summer, when we are set to first have a very exciting Graduation Week in June to celebrate the success of our three graduating classes -- 2020, 2021 and 2022 and then welcome with an open heart the new cohorts for the new academic year.

We look forward to hosting a prominent guest as the Speaker for the Commencement Ceremony on June 25th for the graduating class of 2022, John Elkann, Chairman and Chief Executive Officer of Exor, a holding company which owns car companies like Ferrari, Fiat, the soccer team Juventus, world-renowned magazine Economist among others.

Here is to finally fully enjoying the tradition of getting together and embracing friends, loved ones and families . . .