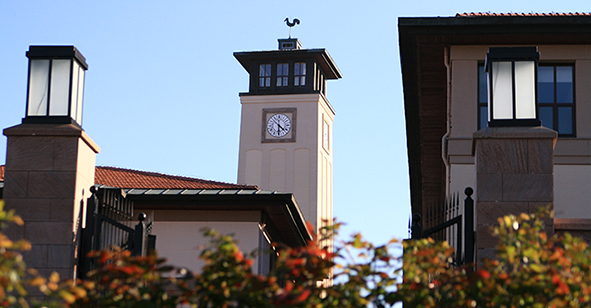 Spring, the first, loveliest smile of the year (a modification of a quote from William C. Bryant) is finally upon us . . . Since the first half of March turned out to be the February we should have had, our lively campus is finally coming back to its usual hustle and bustle, with students, faculty and staff filling up the classrooms, Koç Square, our many and marvelous courtyards, faculty pavilions, Student Center, and our beautiful library.

And it also feels great to be able to now travel to our campus in daylight since like many of us in our community, our campus is really an early riser as well.

Spring is a sign of rebirth and a time of tradition, bringing hope to a world that could really use some right now. The first sign of hope was the most special day on March 8, as we celebrated International Women's Day. This important day is celebrated not because it is customary but rather because it is utterly necessary to remind everyone of the contribution and strength of women. In our Koç University community, there are countless individual women – students, faculty, staff, alumnae, board members, supporters, and friends – who have made their marks, with 40% of all employees and more than half of students being women, with five of our seven academic deans, and with by far most of our high-level administrators also being women. It goes without saying that full and unequivocal engagement of all women citizens in all segments of society is absolutely necessary to reach the high level of civilization that has been targeted by the founder of our Republic, Mustafa Kemal Atatürk.

This month, there were fantastic news on multiple research fronts both at international and national levels.

Assoc. Prof. Sedat Nizamoğlu, of Department of Electrical and Electronics Engineering, received the ERC (European Research Council) Consolidator Grant for his highly interdisciplinary research project 'Retinal Mesh Optoelectronics', involving electronics engineering, physics, chemistry, and medicine at a support level of €2M. With his team, Prof. Nizamoğlu combines nanomaterials with unconventional electronic approaches to develop novel – truly the first in the world - retinal implants that provide lasting solutions to blindness. His five-year project honors him as the first scientist in Turkey to secure 2 prestigious primary ERC Grants (excluding ERC Proof-of-Concept Grants), i.e., an ERC Starting Grant in 2015 for his project "Novel Nanoengineered Optoelectronic Bio-interfaces" with €1.5M funding followed by an ERC Consolidator Grant 2022. With this addition, Koç University realizes a new record of having received 20 out of 36 ERC grants that have so far been awarded to Turkish universities. Out of these 20 grants, 14 are in engineering, 4 in social sciences and humanities, and 2 in the field of molecular biology and genetics.

On the national front, Koç University continued its winning streak of receiving by far the largest number of projects (9 out of 31) from the Scientific & Technological Research Council of Turkey (TÜBİTAK) 2247-A National Leader Researchers Program 2021.

Koç University also received the Most Successful Institution in Turkey Award under the "Horizon 2020", the largest innovation and research program of the world. With a total of 52 projects and 23,8 million Euro funding, Koç University was ranked clearly at the top. Along with this award, Prof. İhsan Solaroğlu, Assist. Prof. Didem Unat and Assoc. Prof. Erdem Yörük's outstanding projects were selected and recognized among the most successful projects.

The month ended with more good news with two of Koç University faculty members, Assoc. Prof. Deniz Ceylan Tufan Özalp, Psychiatry, SOM, and Asst. Prof. Emre Ekinci, Economics, CASE, winning the prestigious Science Academy Young Scientist Awards Program (BAGEP) for 2022. Özalp's work revolves around solving the relationship between depression and genetic variables while Ekinci develops new models on the intellectual property management of innovative companies. Koç University maintains its leading position with the largest number of BAGEP Awards received in the last 9 years since the inception of this program.

These accolades and achievements are undoubtedly the result of the excellent research environment provided at Koç university and the competent and exceptional faculty profile, coupled with the importance attached to interdisciplinary studies which serve as significant pillars for securing these prestigious grants and awards. It is great to see the fruits of these investments and continuous research and scientific efforts.

Good news was in abundance this month, with many triumphs from Koç University teams in sports competitions as well. Men's American Football team, men, and women Basketball and Volleyball teams are moving up steadily with successive wins in their respective categories. Women ski and snowboard teams became third in Istanbul competitions, and we have had our first gold medal in track for women in 800- and 1500-meter categories in national and Balkan Countries athletics competitions. Congratulations to all KU student athletes, with hopes for many more great news in the coming months!

Comments are also in order about unpleasant and unfair reflections about Koç University that occurred this month. First and foremost, Koç University is committed to diversity, equity, and inclusiveness while focusing on its students and striving to equip them with the highest sense of ethics, social responsibility, and good citizenship. This commitment has been at the forefront of the very fabric of Koç University, since its founding 29 years ago. Any other idea or perception would be misconstrued and would stray us from our mission of cultivating the most competent graduates, well-rounded adults who are internationally qualified; who can think creatively, independently, and objectively; and who are confident leaders. Thus, what had been reflected on social media on certain matters was frustrating and upsetting to say the least.

Nonetheless, the response of the university to expressions of dissatisfaction from some of our students amidst the rapidly changing economic situation in the country was slow. However, the shortcomings were rapidly rectified via hard work and fast reassessment of the economic hardships faced by students and with major adjustments involving back-to-back improvements to student stipends, work and study compensation and cost conservation efforts in cafeteria meals were realized in a matter of a few days. The health and well-being of the Koç University student community is the most important responsibility of the university administration, always striving to focus on improving campus experiences for our students, faculty, and staff.

Active communication between the Student Council and university administration and an open-door policy to any student who has something to say is the way forward. Results can be realized quicker if a two-way dialogue is maintained. Students should provide feedback, write, email, complain, or praise but always share their thoughts.

Now that spring can be enjoyed outdoors, here is a great opportunity for our community to try to get to campus just before sunrise on a day with clear skies and watch the sunrise through the Portal of Knowledge, which was architecturally designed specifically for this purpose . . . Those who do so shall not regret it . . .